The Board of Intermediate and Secondary Education (BISE) Federal Board has released an official announcement, available on the FBISE website, in regards to the HSSC final exams 2021.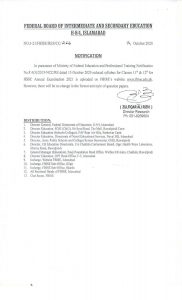 According to the tweet, the Chairman FBISE has announced a reduction in the HSSC intermediate part 1 and part 2 syllabus for the 2021 final examinations. The syllabus is available for students to view on the official Federal Board website.
The rise in COVID-19 in 2020 led to the cancellation of the matric and intermediate final exams 2020, as well as the closure of schools and colleges across the country. The Federal Board hence developed a scheme for promoting students to the next class in lieu of the final exams.
In light of this closure and the effect that it has had on students' education, the syllabus will be reduced for the 2021 final exams. This decision is made by the Federal Board in order to accommodate the matric and intermediate students after this trying time.
The Federal Board HSSC final exams date sheet will be announced soon, and the examinations will be held according to all government regulations and SOPs. Students can view the date sheet here as soon as it is released.
In the meantime, students are advised to begin their HSSC exam preparation routine. or the best exam preparation, turn to tutoria.pk's ultimate study tools, including five-year solved past papers, book notes, and lecture videos.
Be sure to check out the officially revised FBISE HSSC intermediate part 1 and part 2 syllabus, and stay tuned for the date sheet, which will be available here on tutoria.pk very soon!