The world has witnessed numerous technological innovations in recent years. In the education sector, one of the most prized technological advances has been the introduction of e-learning. 
When we speak of e-learning, the terms online learning and distance learning are quite often used interchangeably. While they are definitely similar and both fall under the same e-learning umbrella, there are some clear distinctions between the two. 
What is E-Learning?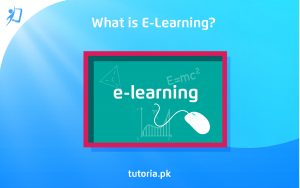 According to its official definition, e-learning is "learning conducted via electronic media, most typically the internet". Simply put, e-learning allows education to take place through electronic devices. This provides several benefits to users, including:
No need to visit a physical school to learn 

Students can at any time or place

Provides more flexibility to the educational process
Online learning and distance learning are both types of e-learning. 
Online Learning


Online learning refers to any type of education that is delivered via the internet. While online learning can be a form of distance education, the two terms are not synonymous. With online education, students can study and learn electronically, in collaboration with traditional schooling, however the electronic education may also be standalone. 
There are different methods of online learning, from virtual classrooms to online supplemental learning resources. For example, tutoria.pk's online previous five-year solved past papers and other online exam preparation resources are a form of online learning. The online exam preparation resources may be used on their own during self-study, or to supplement a traditional education. In any case, it provides the flexibility and convenience that is trademark of e-learning. 
Distance Learning


Distance education is slightly different when it comes to technicalities. It refers to any formal education that takes place at a distance, away from a traditional classroom. Many colleges and universities offer distance learning programs, whereby students do not visit a physical classroom at all. Before the advancement of technology, distance learning took place via mail, CD Roms, or radio broadcasts.
In this day and age, distance learning is most popular via the internet. Instead of having educational content sent through the mail, students are provided with online instructional videos, webcam classes, online reading materials and assignments. In many distance education programs, students even appear for exams remotely via take-home examinations.
Which Type of E-Learning is Better?


As stated before, there are numerous benefits of e-learning. All types of electronic learning provide their own functionality and benefits. Hence, the type of electronic education that is better for you will depend on a number of factors. 
For example, students who are appearing for their final board exams may see a point of accessing online solved past papers during self-study and attending class in a physical school. In this case, there is no need for distance education. Furthermore, students who would prefer to enjoy the benefits of online learning, including the flexibility and convenience, may opt for online exam preparation resources rather than a tuition center.
On the other hand, university-level students who are working alongside their classes may find it difficult to attend a physical university. In this case, opting for a complete distance learning university program would be more beneficial. Similarly, individuals who live in remote areas without any nearby physical schools can make use of their internet connection by enrolling in a distance education program. Moreover, private candidates who do not attend school for their board exam preparation can use online learning resources to help them prepare.
Therefore, both online learning and distance learning provide their own advantages and functions, and are useful in different situations. Clearly, these technological advancements in the educational sector have provided ease and convenience to students across the globe, and will continue to do so as further innovations will improve on the current e-learning environment.